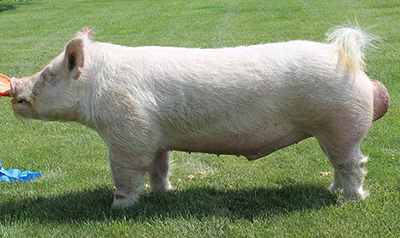 WHAHOO

Sire: Mack Down
Dam: Daddy Mack
Bred by: Rodibaugh Genetic Team
Ear Notch: 124-1
Registration: 534042001

Whahoo is a mature boar that we got off Thompson Brothers who originally bought him from Rodibaugh Genetic Team.
Thompsons kept 30 keeper gilts out of Whahoo and our best Yorkshire sows at our place have Daddy Mack in their pedigrees. We wanted to bring that back in and why not do that with a proven mature boar to make keeper gilts as well as winning show barrows and show gilts. He is a double bred Daddy Mack, out of Mack Down which was a Daddy Mack son, back on a great Daddy Mack daughter. I remember seeing Whahoo as a young boar in the nursery at Rodibaughs', he was a stand out then and to this day is a impressive mature Yorkshire boar.
Wahoo is going to offer some look and design that makes hogs tall fronted and great looking that have true shape and muscle. He is square off both ends and super flexible. Perfect pastern set with big feet and is heavy boned. When wanting to make awesome mature Jr Show gilts and show barrows that can win at all levels the choice is WHAHOO.