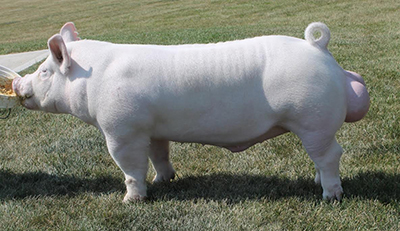 WATCH N SEE
Sire: Final Move
Dam: Snow Plow
Bred by: Ottenwalter Showpigs
Ear Notch: 6-1
Registration: 557801001

Watch N See is one powerful dude that was named Reserve Grand Yorkshire boar at he 2014 Indiana State Fair.
After seeing him, we felt he would bring something different to our lineup from a pedigree, as well as a design and power standpoint. Sired by the proven Final Move boar himself, and a boar that we have used and have had great success with both in the showring as well as making great sows. Mother of this boar is one that Ottenwalters picked up at Duncan from Lorenzen and have a lot of faith in.
Watch N See is so bold and wide everywhere, he is a massive topped boar that has great shape and spread starting at his shoulder and carries all the way back. Huge center body and rib in this boar. Drives at you with great power and goes away with a huge hip with great stifle muscle and a square hind leg. This boar's angles are correct both upfront and behind. If you need to add power, width and keep them square, then this is your boar. If not then, WATCH N SEE