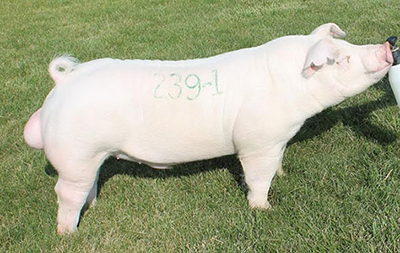 U TURN
Sire: Dead End
Dam: White Chocolate
Bred by: Wintex Farms
Ear Notch: 50-4
Registration: 145772004

U Turn is the $35,000 Record Selling Chester Boar from 2014 STC. Winters were high on this guy for a good while, and when he hit Springfield we knew that we were going to own him. He is a littermate to the Reserve Grand Barrow Overall at 2014 Team Purebred show and also sired by same sire as the Grand Overall Gilt at 2014 Team Purebred show also bred by the Wintex Firm.

U Turn is the perfect combination of design and power. Super tall fronted and level topped with great top shape and stifle shape for winning barrows and gilts. Angles on this boar are awesome having set up front, flex and reach behind while being heavy boned and big footed with near perfect pastern set. LOOK….DESIGN…POWER...SOUNDNESS…TAKE YOUR CHESTERS IN THE RIGHT DIRECTION AND MAKE A U TURN!!