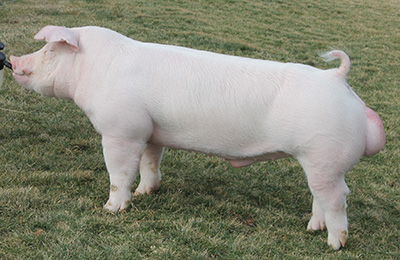 TRUST ME
Sire: Ein
Dam: Direct Hit (Mother of Butch & Walter)
Bred by: Schminke Genetics
Ear Notch: 12-5
Registration: 148245005
Trust Me is an off the farm purchase from the proven and dominating Schminke firm and a boar they were planning to keep and use hard.
He is sired by the late Ein boar. We have really liked those barrows and gilts sired by him and glad we found a killer son. Mother of Trust Me is a proven female that produced the boars Walter and Butch and also the Champion Gilt at 2014 IN State State Fair. He was THE ONE we have tried to find for the Chester breed. He not only has a different pedigree for us here, but one of the BEST CHESTERS WE HAVE SEEN EVER!!

Trust Me is awesome made and correct in his design and his build. He is super tall fronted and level topped with a level tail set. Great angles and set up front with correct pastern set and a square correct hind leg that he can reach and drive off of. He is square chested, square from hock to ground, and huge boned yet not coarse about his joints. Great natural shape down his top but not the quick bunchy muscled kind. We love this boar, and he is one of those that don't come around very often. If you want to make winning Chesters at all levels then, TRUST ME!!!!