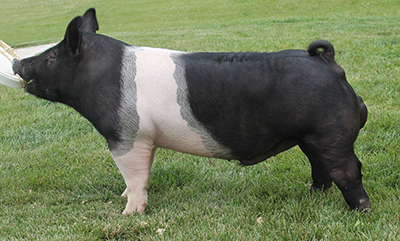 TROUBLE MAKER

Sire: Point Maker
Dam: Outrage
Bred by: Steve HarveyFamily
Ear Notch: 2-4
Registration: 481000004
Stress Status: Negative

Trouble Maker is our private treaty purchase from Steve Harvey Family that has a proven record for winning in the Hampshire show ring.
Trouble Maker is out of the deepest and best litter of Hampshires that I have ever seen with a littermate barrow that was successful on the circuit and some more successful littermate show gilts and future foundation females for Harveys. What a pedigree with his sire, Point Maker that dominated the summer in the Hampshire ring and many say this one most closely resembles his sire. Trouble Maker's mother is an incredible female that was a successful show gilt and one of Harveys' best sows that they are building around.

Trouble Maker is a moderate framed boar that is packed full of muscle and power, yet one that can get out and travel with flex and ease. He has a great look about his front end with extension being tall fronted and level down his topline. Trouble Maker has great center body and natural flesh with a great amount of top shape and a massive shapley stifle. Trouble Maker is one unique boar that can sire winning purebreds as well as crossbreds.