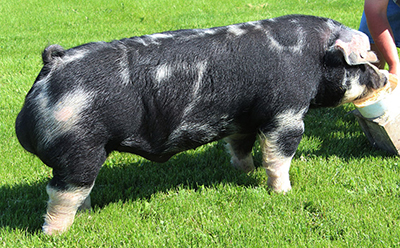 SWEET FEET
Sire: Happy Feet
Dam: Thunder
Ear Notch: 9-12
Registration: 154102012
Bred by: Mays Showpigs
Owned with: Matt and Tammy Miller
Stress Status: Negative
Sweet Feet is the Champion Boar from 2014 SWTC that Matt and Tammy Miller Family bought from Mays Showpigs.
After2014 Duncan, we talked to Millers into sending this boar over here, and we are so thankful because we have seen a good handful of these first offspring and we will be posting winners out of his first crop, and for a long time the way it looks. Mays'program is very good and after taking a tour we like the way they build their hogs, still having extension, look, and having the right amount of power and bone and feet and legs are as good as you can make them. A negative boar that has great shape and generates shape and power. Look, shape, power, bone all tied together with SWEET FEET.