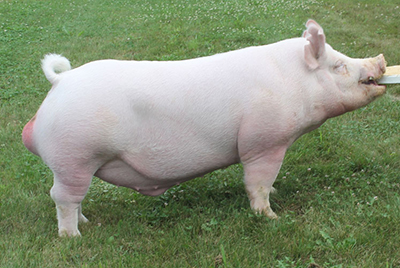 SHOOT THE MOON
Sire: Moonshine 17-4
Dam: Buck Fifty
Ear Notch: 15-5
Bred by: Will Hilty
Registration: 538458005

Here is the $37,000 Yorkshire Weanling Boar purchase from 2012 Fall Classic. We would give 3 times that now that he is mature boar.
Shoot The Moon is one incredible Yorkshire boar with the perfect maturity pattern. Balanced is what he is and a word we are going to be hearing a bunch in the showring. We have never witness so many breeders get a weanling boar out, and at Duncan he was the talk of the show. This boar is super tall fronted and is near perfect in the way he is made, being square and flexible off both ends. Shoot The Moon is as big up high as he is at the ground. He has a great amount of center body, and is a boar that has that added natural flesh. He is heavy boned with angles and joints are perfect. SHOOT THE MOON IS A GREAT ONE!!!!!!!!!!