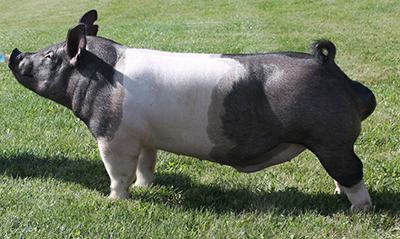 SENTIMENTAL
Sire: Monumental
Dam: Tree Shaker v Black Attack(48,500 Garlisch & Todd Gilt '12 Cross Classic)
Bred by: Platt Showpigs & Tres Amigos Showpigs
Ear Notch: 3-2
Stress Status: Negative

Sentimental is a great boar that is problem free hog.
He is a "FIXER" meaning he can fix a lot of issues in many crossbreds.
This boar has a great skeleton and great from a feet and leg standpoint being square and flexible off both ends. Sentimental has great angles up front and his hind leg is perfect with squareness to the ground. He can get out plant and flex off both ends. He has great spread and width up high and carries it to the ground. This guy is massive about his center body and flesh due to his great appetite. Sentimental's mother was one of the dominating gilts in 2012 on the Illinois Show Circuit and brought $8,500 at the Crossbred Classic. This was her first litter and an extremely deep litter that had many high selling barrows that went on to be competitive throughout the summer. Boars like this hang champion banners at all levels and make some great memories that become SENTIMENTAL!!!
DAM OF SENTIMENTAL