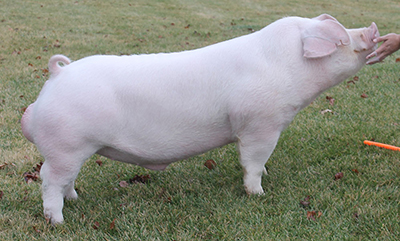 SEA WORLD
Sire: Shark Tank
Dam: Big Splash
Bred by: Sam Malcolm Family
Ear Notch: 6-3
Registration: 127120003
Sea World is an off the farm purchase from Sam Malcolm and Family, and glad he called us on this GUY. We love what Shark Tank has done in his first crop dominating the Landrace show ring at all levels, but we feel this guy can do even more. Mother of this boar is a female that is a brother sister mating and is very predictable on what she has in every litter. Sea World is monster legged, square, and super flexible off both ends. Great set up front and a square hind leg in this boar with correct pastern set. Sea World is tall fronted with levelness from the side and when you get on top of him he has great spread, shape with a powerful rib, center body, and leaves you with tons of power and muscle. Sea World like his sire is one of the BEST in this breed we have ever seen and is going to make the next level of champions. If you're serious about making champion Landraces, then it will be an easy trip with SEA WORLD.