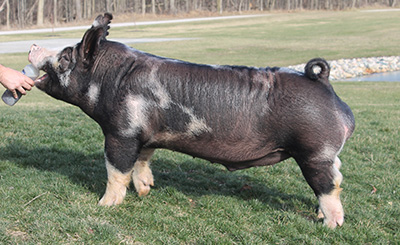 SCANDAL
Sire: I Do
Dam: TNT
Bred By: Platt Showpigs
Ear Notch: 17-1
Registration: 133328001
Stress Status: Negative
Price: $200/ dose
Off-Season Price (October 12 to March 18th): $100/dose
Scandal is one big league Berkshire boar and one of the best ones we have seen at 300 lbs with a proven dominating pedigree. Only male in this litter and some killer littermate gilts were in this litter. Full sib gilt to Scandal was named Champion Berkshire Gilt 2015 IN State Fair. Sired by I Do, which dominated his first crop like no other Berkshire boar has ever done in one season, and Scandal can follow in his sire's footsteps. Mother of Scandal is the $8600 Harland Reid female that was named Champion Berkshire and 3rd Overall at the 2013 Team Purebred Jr Show and is a no miss female. Awesome boar with a pedigree that we know makes winners time after time!!!

Scandal is flawless in his skeletal build being tall fronted and level topped with perfect set up front and behind. He is super attractive on the side, and when you get on him he is as square up high as he is down low with shape and muscle. He is perfect in his pastern set being heavy boned with great foot size. He is as wide coming and as he is leaving with great flesh and body. To make the next generation of Champion Berkshire Barrows, Gilts, and Boars no question you need to get in with SCANDAL!!!!