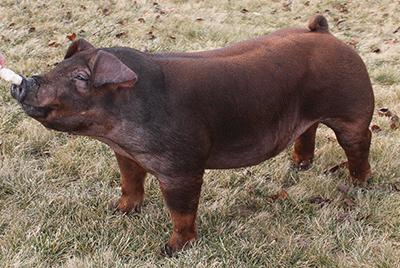 RESOLVE
Sire: Solution
Dam: Buck Cherry x Problem Solver(Mother of Immunity and The Answer)
Bred by: Michel Showpigs
Ear Notch: 37-1
Registration: 356832001

Resolve is a private purchase from the successful Michel Showpigs that is an impressive boar with an equally impressive pedigree.
Mother of Resolve is the mother of Immunity and The Answer, and this was her final litter before they lost her. The female was bred by Ogle and was out of the impressive first litter from the Jackson Problem Solver out of Buck Cherry. Resolve's sire is the Solution boar, which is a hog sired by The Answer, adding another shot of that foundation Ogle sow in this pedigree. Lining up that pedigree, we feel with make offspring even more predictable for the next generation.

Resolve is the combination boar of his 2 brothers Immunity and The Answer. He is a moderate boar that is super looking from the side with extension and look up front with tons of shape and power up high and is square to the ground. He is massive underneath with a huge chest floor and is just as square and opened up behind. Great center body and flesh in this boar, flexible off both ends and stays square and true to the ground for as much power he has. This boar will make some problems within the Duroc breed easy to RESOLVE!!!