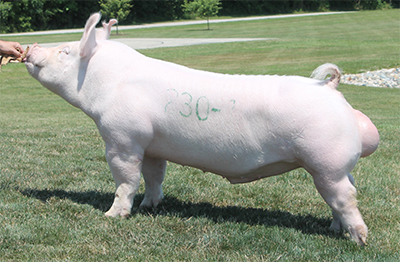 PUBLIC SAFETY
Sire: Private Drive
Dam: Free Ride
Bred by: Western Illinois
Owned with: Fecke Livestock
Ear Notch: 18-1
Registration: 589190001
Public Safety is our pick of the Yorkshires at 2016 STC and we teamed up with Feckes to bring this $30,000 boar home. Before the show, I got to see a picture of this boar, I was intrigued and talked to Mark Hoge about him. He was fired up about this one. He hit the ring on show day and this was the one that we needed, there was no question. Sired by Private Drive, a boar that we got along with so well making barrows and gilts that can win at all levels.
Public Safety is one that is so good everywhere but very trendy for the day when talking about making attractive, tall fronted hogs that are up on their pasterns and great looking from the side. He is all of that, yet he is a powerful, big muscled boar, and is correct and square on his feet and legs. Sometimes when following trends you have to give up some of the basics, but this boar ties it all together. This boar has everything we need and look for, with some extras making it easy to breed with PUBLIC SAFETY!!!