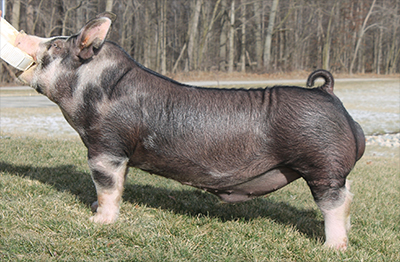 PLAYERS ONLY
Sire: Red Chips
Dam: TNT (Scandal Mother)
Bred by: Platt Showpigs
Ear Notch: 31-1
Registration: 140359001
Stress Status: Negative
Players Only is the kind of boar that we were hoping to have when this mating was made. Sired by Red Chips, a boar at Wintex that has some different blood from what the proven TNT sow has been bred to previously. Mother of Players Only is the $8,600 Harland Reid female that was Named Champion Berkshire and 3rd overall at the 2013 Team Purebred Jr show. She is also the mother of Scandal and the Champion Berkshire at the 2015 IN State Fair. We feel that this boar can follow up and be bred back to the dominating I Do lines, match up, and be a little different pedigree as an added bonus.

Players Only is one that has always offered a stout powerful look. He is packed full of power, flesh, and mass. He is heavy boned and big footed with a big forearm and hind leg. He is square and flexible off both ends with a flexible skeleton. He is one that will bring some natural flesh and body to the table, yet still going to keep some top shape and a level tail set. When wanting to make flexible square Berkshires, this one is for PLAYERS ONLY!!!