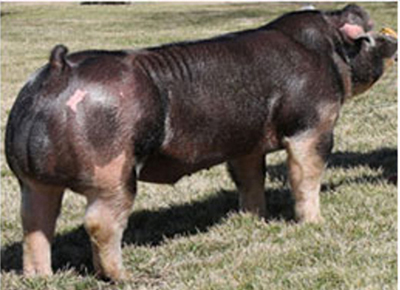 PLATINUM
Sire: Chaos
Dam: B & B
Bred by: Savanna Williams
Owned with: Matt and Tammy Miller
Ear Notch: 1-6
Registration: 149053006
Stress Status: Carrier

We would like to start off by thanking Matt and Tammy Miller for letting us get our hands on this PROVEN boar to share with everyone.
We remember this boar when he showed at Belton and liked him there. After seeing his first crop we were really, really wishing we would have bought him. Platinum is making hogs that are super level in their makeup, square, and heavy skeletoned. This guy will add as much power in one generation as much as any Spot boar we have seen in some time. Great looking hogs with the right amount of power, shape and width. In a short amount of time Platinum has sired a great amount of winners in the Midwest and the Southwest and he can be used across the board to make great barrows, gilts or breeding stock. He can flat get it done.