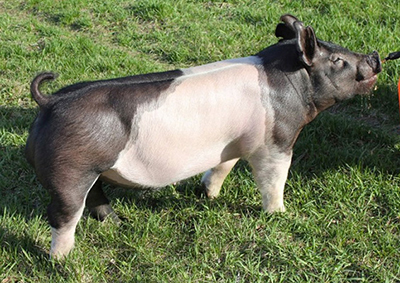 ONE WAY
Sire: Bone Thug
Dam: Tree Shaker x Bllack Attack(Liz)
Bred by: Platt Showpigs & Tres Amigos Showpigs
Owned with: Lambright Showpigs
Ear Notch: 10-4
Stress Status: Carrier

One Way is one of the littermates that we teamed up with Lambright Show Pigs to bring here.
They were bought online as 100 lb pigs, never missed a beat and kept getting better everyday of their lives. The mother of One Way is the also the mother of Sentimental and is one of those NO MISS females. Littermate to Non Stop and One Way is Ashley Bowerman's barrow that tore up the 2014 IJSC being Crossbred points champion barrow and multi time Grand and Reserve Barrow. This litter was flat incredible grossing around $52,000, yet they were not just high dollar baby pigs but hogs that fed and won at different levels.
One Way the carrier of the litter, offers as much true muscle and shape as any in the litter. He is killer looking on the side with great top shape and definition of muscle through his stifle. He is a tall fronted boar that runs up hill and naturally upheaded like the whole litter. One Way is great from a flexibility standpoint and can get out and reach and go off both ends. If you need more look, shape, muscle, and keep them sound then there is just ONE WAY.