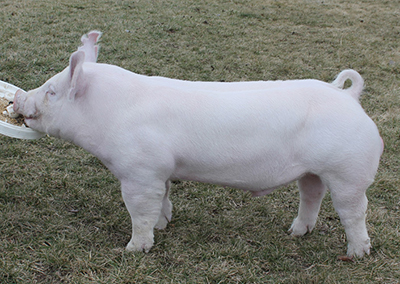 MAKERS MARK
Sire: Moonshine 17-4
Dam: Buck Fifty
Bred by: Mark & Steve Gray
Owned with: Mark & Steve Gray
Ear Notch: 22-1
Registration: 538608001

Makers Mark is the 2012 Fall Classic Grand Overall Weanling Male.
This is a Yorkshire barrow sire that we feel can make winning purebreds as well as winning crossbreds. Makers Mark is a moderate framed boar and a rib shorter than most Yorkshires. He is a massive boned hog that has a huge forearm and big hind leg. This boar has a ton of shape working down his top a shapely massive hip. If you're in need of a Yorkshire champion to generate the next level of champions, then grab some Makers Mark.