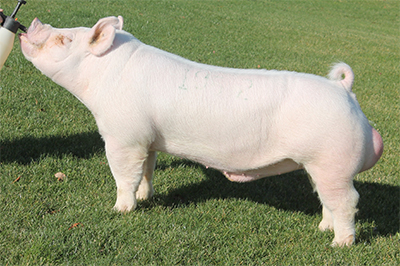 LOCKER ROOM TALK
Sire: Spitfire
Dam: Cloud 9 (Same Dam As Capital Gain)
Bred by: Ricker Yorkshires
Ear Notch: 64-3
Registration: 590066003
Locker Room Talk is our 2016 Fall Classic purchase from Ricker Yorkshires and the breeding piece of the show. We talked to Kevin about what he was taking to Duncan and was high on this guy. He was just as high on this guy at the show and believed in him so much that he bought into him after we bought him. Locker Room Talk shares the same mother as Capital Gain and a sow line that Ricker believes in. This boar has some true breeding value, not only from a pedigree standpoint, but the way he is built, and we all know how well the RIY herdmark breeds on.

Locker Room Talk is a dense and stout made boar that is very heavy boned, big footed, with great toes and pastern set. He is a stout headed boar with correct angles, and a good square hind leg that is flexible. Great shape on his top side and natural flesh and body. He is a boar that is a bigger outlined tall fronted hog, but still has base width, power, and can be a fixer that makes champion junior hogs and breeding stock. When thinking of a Yorkshire boar to make the hogs square, correct, and with enough power, then you need to get in on some LOCKER ROOM TALK!!!