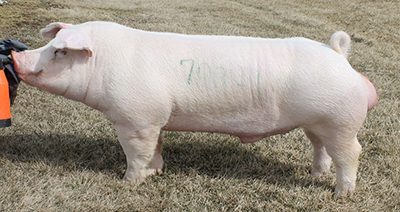 JUST N TIME
Sire: Just N Case
Dam: Mack
Bred by: Armstrong Genetics
Ear Notch: 11-5
Owned with: Schminke Gentics
Registration: 142974005

Just N Time is the $7,000 Champion Boar from 2013 SWTC that we teamed up with Schminke Genetics to bring home.
We have been looking for a boar that is an outcross for Bandwagon and the dominating Direct Hit lines and this boar is that. He is not only an outcross but an INCREDIBLE CHESTER BOAR. The first day at Belton myself and my good buddy Jim Kilmer walked through the entire barn, and the 2nd to last row we found this guy. I was on the phone with Al within seconds and the next day he was named Grand and thought by many, the best boar that the successful Armstong firm has drove!!!

Just in time is a massive hog that is attractive and has that extension that is needed to make show barrows as well as breeding stock. He is super tall fronted, level made, and square coming at you and leaves with perfect squareness from hock to ground. He is a heavy boned boar that has huge feet and is flexible off both ends having slope to his knee and a hind leg that can get out and reach. Just N Time is massive on the top side of his skeleton with a great amount of shape and great curvature to his rib cage. There are many searching for that Chester boar that is massive, heavy boned, square coming and going, and flexible in an extended package this boar just happened to come, JUST N TIME!!!!!!!!!!!