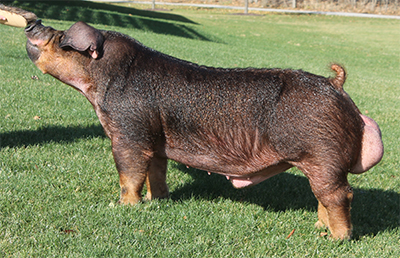 INTUITION
Sire: Impressive
Dam: King of Outlaws
Bred by: Hopkins and Peter
Ear Notch: 29-2
Registration: 378307002
Price: $200/dose
Off-Season Price (October 12 to March 18th): $100/dose
Intuition is our pick from the 2016 Fall Classic, and the one we needed for our already stacked Duroc lineup. He is sired by Impressive, a boar that we lost early after only a short season and we loved what he was doing. Mother of Intuition is a Brattain gilt that was 4th Overall Duroc Gilt 2015 NJSS. This guy we feel offers the same good traits as his sire, but some extra positives, and feel he can make the next generation better.
Intuition, we feel, is a boar that will add mass, power, and shape to the mix. He is stout all over being very heavy boned, big footed, and stout skulled. He is powerful on the topside with shape and spread, drives at you with width and squareness up front, and leaves you with the same amount of width as he has up high. He is very flexible and comfortable on the move and stays square from hock to ground. When wanting to add more mass and power, yet keep hogs attractive, you need to have INTUITION!!!