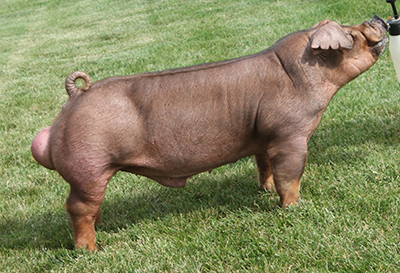 IMPRESSIVE
Sire: Impeccable
Dam: Challenger
Bred by: Platt Showpigs
Ear Notch: 8-3
Registration: 360070003
Impressive is one that has been just that from day one along side his awesome littermates. What a litter of Durocs this was. They were good from the start and were popular in April with 4 littermates bringing close to $20,000, and they have been popular every month since, winning all over with a pair of littermate barrows winning in Indiana, Michigan, Iowa, and Wisconsin and a littermate gilt that was named Reserve Duroc and 3rd Overall at the 2015 NJSS. Sired by Impeccable and what a first crop he has had winning at all levels and making great built ones that have the power and look we all want. Mother of Impressive is a female that we bought from Rodibaughs Spring of 2014 and was one unique female that we turned down some offers for at expo because we wanted to make her a sow. She proved herself in this first litter. Great pedigree and a really good boar here.

Impressive is a power boar and has always had that width and muscle we all want. He is a hog with a ton of top shape, great spread up high, and ties in correct out of his shoulder and ham loin hook up. He is big ended with great definition and stifle shape. He is flexible on the move and comes at you with tons of width, yet is square and leaves you with great sqaureness with good foot size and bone. We think this guy has a similar build to his proven sire but is a shot more moderate and will bring more muscle and shape to the mix. We feel this boar can make them easy to sell early, yet have future, and at all stages can be called IMPRESSIVE!!!