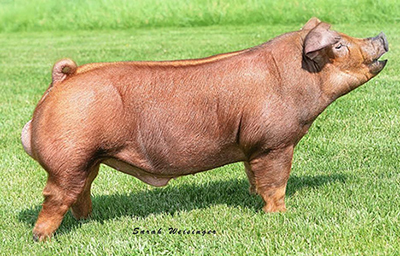 IMPECCABLE
Sire: Iconic
Dam: Full House
Bred by: Weisinger Farms
Owned with: Rodibaugh Genetic Team
Ear Notch: 90-9
Registration: 351324009
Impeccable is the $40,000 Grand Champion Duroc Boar from the 2014 WPX.
Bred by the same firm that put together Iconic and numerous Duroc champions. We partnered with Rodibaugh Genetic Team to buy him and Generator. We were prepared to bid awhile on the pair and felt they both brought unreal pieces to the table. His name should pretty much tell you how we feel about this guy.

Impeccable is the combination of design and power being super tall fronted and level made with a killer look on the side. He is a monster boned boar that is great about his angles, good pasterned, and flexible on the move as you can make one. He is a shapely kind of boar with great top shape and power up high that carries it to the ground being wide chested, great centered, and big ended. A boar that can make bigger breeding gilts, yet can make show barrows that look like him that will be hard to turn in any showring. It will be easy to win with Durocs that are IMPECCABLE!!