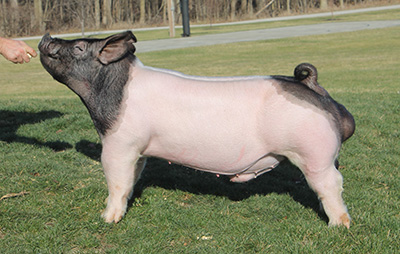 HOME WRECKER
Sire: Wedding Crasher
Dam: Easy Money x Space Monkey
Bred by Jarrod Brown Showpigs
Ear Notch: 12-3
Stress Status: Negative

Home Wrecker is our $10,000 online weanling purchase from Jarrod Brown and was a killer weanling and hasn't changed. We were intrigued with this guy's picture and then offered us a different pedigree. After talking to Jarrod and getting a video of the boar, and telling us that the mother was a proven female with a different pedigree we were even more excited about this boar. Wedding Crasher hogs have been very good and one of the more impressive Best Man sons that we have seen.
Home Wrecker is the definition of look and design with stoutness. He is super tall shouldered and killer looking from the side with shape, power up high, and square to the ground. He is up on his toes, big boned with huge feet, square at his chest, and correct and square behind. We feel that this guy can work on the females that need more look up front, shape, power, and kept square and correct on their pasterns. If you like a proven pedigree with some unique traits that can make the next generation better, then make it HOME WRECKER!!!