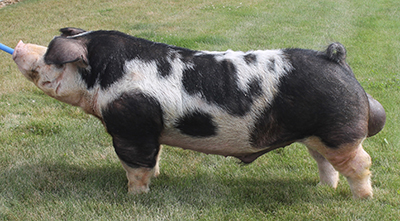 HANDS UP
Sire: Bank Robber
Dam: Time Change
Bred by: Brinning Genetics
Owned with: Matt and Tammy Miller
Ear Notch: 132-1
Registration: 155943001
Stress Status: Carrier
Hands Up is the $31,000 Grand Champion Spot Boar at the 2014 Fall Classic. Bred by Brinning and not many Spot females around there, but what ones there are, are really good. Shane told me about this boar before Duncan, and said he has one and he didn't cry wolf and never has when he told me he has one. Hands Up is a power hog that can make winning show barrows, boars, and breeding gilts. He is a tall fronted boar that is level made and good about his ham loin hook up. He is huge chested driving at you, huge ended going away, and square from hock to ground. Hands Up is massive boned and huge footed and is flexible on the move off both ends. If you want to win Spot shows, then get your HANDS UP.