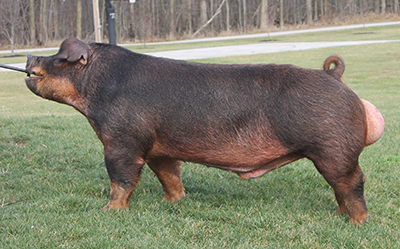 GET IN
Sire: All In
Dam: To Much
Bred by: Levi Canales
Owned with: Jackson Showpigs
Ear Notch: 13-4
Registration: 367630004
Price: CONTACT APEX SIRES - 317.694.5666

Get In is the $65,000 High Selling purebred boar of the 2015 Fall Classic. After seeing this guy in class, we knew he was our next step in our Duroc line-up and the ONE WE NEEDED. The morning of the sale Mike Jackson approached us, and he was as high on this one as we were. We partnered to bring him here, and he will see a lot of very very good females. Mother of this boar is a littermate to the Champion Duroc Gilt 2013 Fall Classic. Not only an incredible boar, but a great genetic package that has a great program put together by the Canales Family.
Get In is the ideal combination of power and design to make breeding stock and champion barrows and gilts at all levels. He is a super attractive, tall fronted boar with a long neck and is naturally upheaded. He ties in correct out of his shoulder into a level topline and level hip. He is massive in his chest floor with squareness at his knee and goes away square with power. He is heavy boned with big feet and can flex and reach off both ends. Great spread and power up high and good center body. If you want to make awesome red hogs that can win at all levels, then GET IN!!!