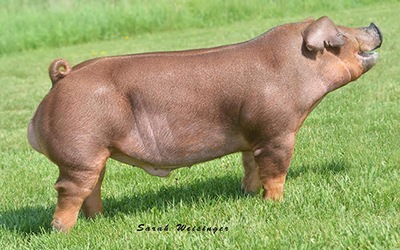 GENERATOR
Sire: Light Em'Up
Dam: Crown Royal
Bred by: Weisinger Farms
Owned with: Rodibaugh Genetic Team
Ear Notch: 15-10
Registration: 354149010

Generator is the $90,000 Reserve Champion Duroc boar from the 2014 WPX. We partnered with Rodibaugh Genetic Team to buy him. We were prepared to bid awhile on the pair of boars because we felt they both brought unreal pieces to the table. Mother of this boar is the mother of Iconic and was also the Grand Gilt Overall 2012 WPX. A ton of great Duroc breeders' herdmarks in Generator's pedigree.

Generator is super heavy duty in his bonework and massive in every area. He is huge boned and has monster feet. On the move, he has great flex and reach off both ends. Super square off both ends and has natural width and spread on the top side and carries that width to the ground. He can be bred to a variety of different kinds of females and is going to FLAT WORK. This one here will to be a true GENERATOR.