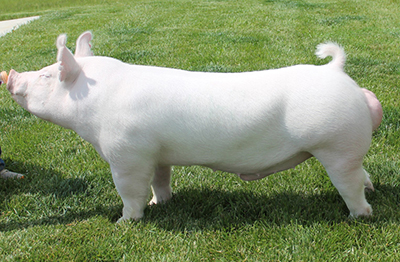 FOREVER YOUNG
Sire: Brothlerly Love
Dam: Buck Fifty
Bred by: Thompson Brothers
Ear Notch: 6-5
Registration: 541033005
Forever Young was our $32,000 2013 WPX purchase. He was the youngest boar in the show but our pick!! We have had great luck with our purchases from the proven Thompson Brothers program, and we are real high on this guy. Forever Young is massive in his skeleton being stout skulled and massive in his bonework with huge feet. This guy has natural flesh and center body, yet still has great spread up high with shape. From the side, this boar is naturally upheaded, ties in out of his blade, and perfect in his ham loin hook up. He is as square coming as he is going with great angles and can get out and flex and reach. If you need to make them stouter, wider, yet correct and flexible, then the choice is FOREVER YOUNG!!