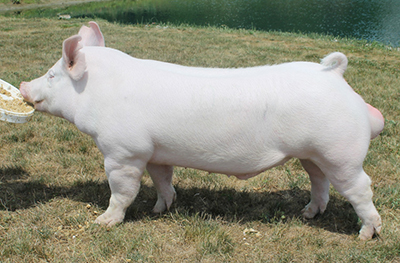 FIFTY SHADES
Sire: Buck Fifty
Dam: Mammoth
Bred by: Thompson Brothers
Ear Notch: 10-6
Registration: 525356006

At the start of 2012 we set out to try to find the Yorkshire boar to take the next step.
After the Yorkshire show at STC we knew we found our guy. It took $46,000 and us teaming up with 3 of the top Yorkshire breeders in the country - Ricker Yorkshires, Bobell Farms, and Thompson Brothers to bring Fifty Shades back to Indiana. When Thompsons called me and wanted to buy back into this one, that got us even more excited to have that much confidence in one to get back in on him.
Fifty Shades has an incredible skeleton, being square coming and going with ideal length of body to make CHAMPION barrows, gilts and breeding stock. He has great shape down his top with a full square rump with shape working down his stifle. His center body is ideal and his feet and legs are as good as it gets. He has great reach off both ends with set to his massive feet, but not down on his pasterns. We are excited to own this guy and look forward to seeing him take all involved and anyone that uses hm ti the NEXT LEVEL.