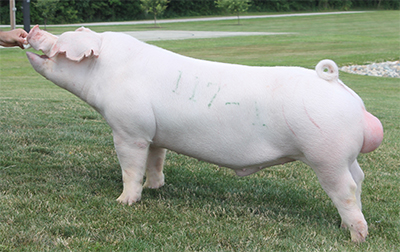 EVACUATION
Sire: Revolution
Dam: Green Top General
Bred by: McGrew Showpigs
Owned with: Real Mccoy Genetics
Ear Notch: 7-8
Registration: 135026008

Evacuation was named Grand Champion Landrace Boar 2016 STC.
When McGrew's dropped this boar in the showring, he hit us very hard and after seeing that he wasn't sired by Got Em we were even more interested in buying to offer another boar that will work on Got Em daughters or ones built that way. McGrew's mentioned this boar to me in the spring, thinking they might have a boar that was special, and that's always good to know when a real good mature boar was a good weanling.

Evacuation is built near perfect from a design and profile standpoint, being elevated and tall fronted with a level topline. This guy is correct about his pastern set, square at his knee, and has a square hind leg. He is a long fronted boar with great ear set and is very flexible off both ends when set into motion. He has great shape and spread up high and ties in correct out of his blade and ham loin hook up. When needing a boar that can help improve the Landrace breed even more, better be sure to use EVACUATION!!!