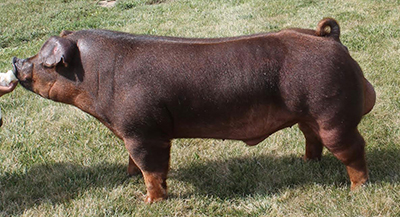 EMPORER
Sire: Asia 10-3
Dam: King
Bred by: Kimmell Showpigs
Owned with: Kimmell Showpigs
Ear Notch: 24-5
Registration: 354176005

Emperor was an incredible pick up late 2014 summer that offers something different for our already deep red lineup both from a pedigree and a visual standpoint. Kimmel Brothers have made some great Duroc boars and gilts, but this one IS THEIR BEST and they agree 100%. Sire of this boar is an Asia son at Huinker's and mother is the 2013 12 time champion gilt shown in Missouri and also champion at the Missouri State fair. Great pedigree with some winners, and this guy is going to carry on the tradition.
Emperor has the look and design of a champion barrow and the mass and power of a champion boar. He is tall fronted and level made with tons of shape down his top, massively big chested driving at you, a huge hip, and great stifle shape when he leaves you. He is super heavy in his skeleton having a huge arm, massive hind leg, square kneed, and leaves you with a square hind leg. He is flexible on the move with great pastern set and has great flesh and center body. Power Boar that has the look.…RISE TO THE TOP OF THE DUROC BREED BY USING EMPEROR!!