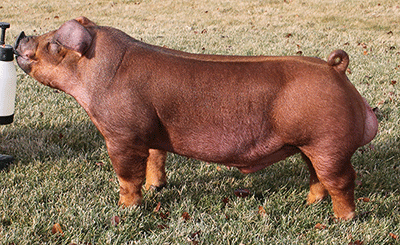 CAN'T STOP
Sire: Iconic
Dam: King
Bred by: Olson Farms
Ear Notch: 8-3
Registration: 356848003
WHAT A LITTER!!!!
Can't Stop and Won't Stop aren't only super impressive boars that have us all fired up, but they are out of one of the more dominating litters of Durocs in some time. Littermate barrow was named Champion Duroc at the 2015 Fort Worth Stock Show and littermate gilt was named Champion Duroc Gilt 2015 San Antonio Stock Show. Full sib to these boars was the Caldwell gilt that was named Reserve Duroc/3rd Overall 2014 WPX. Mother of the Stop Brothers is a true generator in her short time at Olson Farms. She is a littermate to the Reserve Grand Gilt 2013 WPX Jr Show and the Grand Barrow Overall 2013 NJSS. We are very high on this pair of boars, and we know how Olson Farms genetics have bred on. There is a lot of POWER IN THE BLOOD!!!

Can't Stop is a no holes boar with a little extra of everything. He is killer looking and awesome made from the side being tall fronted and level made with great angles up front and a hind leg that is square with flex and reach. Great shape up high and the right amount of flesh and centerbody. He has perfect pasterns with huge feet, a huge forearm, and hind leg. We love this boar and believe he can be bred to a bunch of different kinds of females and will make winning barrows and gilts that most CAN'T STOP!!!!