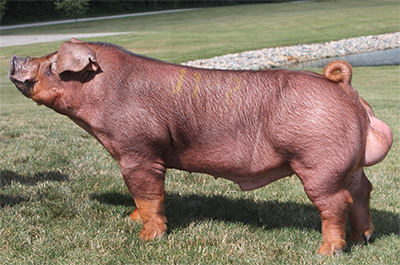 ATTENTION
Sire: Ultra Squared
Dam: Measure This
Bred by: RW Genetics
Ear Notch: 37-1
Registration: 371367001
Price: $200/dose
Off-Season Price (October 12 to March 18th): $100/dose
Attention is the $190,000 World Record Selling Duroc Boar from the 2016 STC. And his name is very fitting because anyone who raises red hogs and was at Louisville, he sure had their Attention. Not only a BREED IMPACTING BOAR, but an outcross pedigree because he doesn't have any Buck Cherry, Iconic, King, Light Em Up or Royal Flush in his pedigree. In his pedigree, out of 126 parents in 7 generators only 41 are different, so very lined up. We talked to Rick about the boar numerous times before STC, and when he hit the ring we knew he was the one Duroc breed and we can use. Rick called him the closest thing to Problem Solver that he has raised since, and we agree 100%!!!
Attention is a stout rugged boar with an amazing running gear. Studying him from the ground up he is massive boned having a huge forearm and huge hind leg with great toes. He has a hind leg that can reach and flex and is square from hock to ground. His front legs have great angle and set and are square to the ground with correct pastern set. When you get on top of this guy, he is wide with shape and very square and true to the ground both coming and going. He leaves you with a square hock and is set wide behind with true natural stifle shape. He is one that will see some of the most elite sows in the county, but the kind that can work on all kinds. He demanded ATTENTION, and his future Champion offspring will also demand everyone's ATTENTION!!!!