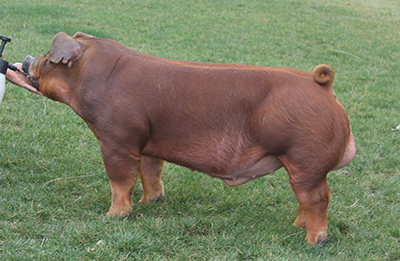 ADDICTION
Sire: Won't Stop
Dam: Iconic
Bred by: Olson Farms
Ear Notch: 7-5
Registration: 367696005
Addiction is another purchase that we made at the 2015 Fall Classic and was the youngest boar class winner. This boar is from Olson Farms and what a job they have done making champion red hogs that have bred on both on the female and boar side. We got to see Addiction as a young pig, and he was a very good baby pig and grew up just the way we thought he would. After losing his sire, Won't Stop, this summer and seeing his first and only crop, plus knowing how Olson hogs breed on this was a no brainer, we needed to own him. Mother of this boar is a full sib to Won't Stop and Can't Stop, so making it a full brother to sister mating. Line breeding makes hogs very predictable. We had a red boar a few years ago that was a brother- sister mating and he went by the name of Problem Solver. We all know what he did for the Duroc breed. Mother of Addiction is also a littermate to Caldwells' gilt that was 3rd Overall at 2014 WPX Jr Show, and another female that Olson retained that is the mother of the Reserve Duroc Gilt at the 2015 WPX Jr Show. The Grandmother King sow is a littermate to the Guyer Barrow that won 2013 NJSS and the $27,000 Caldwell Gilt that was Reserve Grand Gilt 2013 WPX and was bought by Mike Jackson Family and has dominated in producing champions. Addiction brings a lot of genetic power to the table.

Addiction is a power hog that is stout everywhere starting at his skull and carries that stoutness to the ground having a huge forearm and big hind leg with massive feet. A lot of power on the top side of his skeleton with shape, width, huge ended, and square to the ground. He is big centered with great depth of rib and on the move can flex and reach off both ends and sets them square. If you love predictable pedigreed red ones that are stout and powerful, then make it an ADDICTION!!!