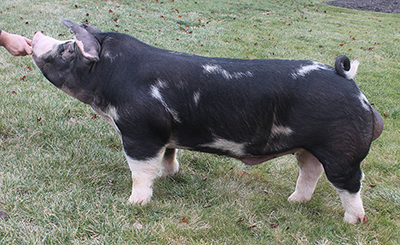 ACROSS THE BOARD
Sire: Big Foot
Dam: Rampage
Bred by: Matt and Tammy Miller
Ear Notch: 73-6
Registration: 155886006
Stress Status: Negative

Across The Board is the Reserve Grand Spot Boar at the 2014 Fall Classic. Bred by Matt and Tammy Miller Family the proven firm that keeps doing it time and time again in the spotted ring. This boar's name fits what kind of sows he can work on because you can breed him across the board and make winners and not get into trouble. This guy is tall fronted and great looking from the side with great levelness from point of shoulder to tail set. He is square underneath off both ends, great hocked, and as flexible and sound as you can make one. He reminds us of Transformer with more shape and we all know what Transformer did for the Spot breed. Mother of Across The Board is a littermate to the $16,000 3 Time National Champion Gilt Miller Triplets showed in 2012. Should be easy making good winning Spot hogs when you can breed to ACROSS THE BOARD.